Do you need help planning a round the world trip? We're the UK's biggest round the world flight specialists. Whether you're looking for round the world flights, tours, accommodation, or even gap year travel, we can help you today! Our consultants are round the world specialists and can guide you every step of the way to help make sure you get the most out of your big trip.
Design your own round the world trip with our Trip Planner or alternatively call our experts FREE on 0800 707 6010.
About Round the World Trips
What is a round the world flight?
It's the ultimate of all flights. Exploring the world and stopping off wherever you want can't get any more thrilling. A round the world flight suits anyone and everyone looking to go on an once-in-a-life-time round the world trip and can be tailored to your needs and budget. Many people ask what the difference is between an around the world flight and a multi-stop flight. The differences, RTW flights take advantage of the spare capacity that airlines carry and work well within the various airline clubs like Star Alliance for instance, which is a combination of 28 airlines which offers a maximum of 15 stops on your round the world flight.
If you are booking a round the world ticket that uses airline alliance like Star Alliance, it will keep the costs down but you have to obey the following rules;
Fly in a single direction.

You must finish and start in the same country.

You must book all your flights before departure however, can change dates for free.

You can't backtrack between continents.
Theoretically any route is possible, so we say "tear up the round the world rule book". Forget having to travel one direction, with so many stops over so many miles. Simply tell us what you want and we'll pull it together for you – if you don't fancy going to the USA, that's fine. No rules, no worries. That's why we're the round the world experts.
How to plan a round the world trip
Whether you are planning your gap year, a career-break or a reward for yourself after a lifetime of work, it pays to put just a little bit of effort into the planning to give yourself the trip you really want and deserve.
Step 1: Getting Started
A healthy amount of planning will pay off....

...but don't over plan your trip. Allow yourself the freedom to stay longer in those places you're really loving and perhaps move on a little quicker from those you're not.

Get the basics in place before you go - flights, first couple of night's accommodation in each new destination, and some highlight tours – especially in places where it's easier to travel in a small group.

Make the most of our free Travel Butler service for additional arrangements and ticket changes as you travel.
Check out our step by step guide below to find out more on planning a round the world trip.
Step 2: Destination Research
Ask friends and family who may have travelled in the past about their own round the world adventures.

Check out the discussion boards on specialist websites like gapyear.com and our own Facebook page, where there are heaps of people in the same situation as you.
Look at blogs such as our 80 Days travel stories, a great way to learn about other peoples' experiences.

Check out TV programmes, guide books and travel magazines and supplements for ideas.

And of course, take a good look through our website for likely routes, possible adventures and cool ways of getting around.
Step 3: Timings & Budgets
Be realistic about distances
Get a map out and see what the distances are really like, especially the bits you're planning to do overland.

Remember, many maps are not true to scale – Australia is far bigger than it generally looks on a map. Driving from Sydney to Brisbane for instance looks like a skip and a hop on a map, but is a 12 hour non-stop road journey.
Know your seasons
Check the weather too. Not just the scattered showers and sunny spells daily stuff, but the bigger seasonal factors that could affect your travel.

You probably want to avoid monsoon seasons, (roughly June – Sept in India), remember that July is mid-winter in New Zealand and January is a great month in Thailand.
Budgets
If you want to travel the world on a budget and get the best fares, here's a rundown of when round the world flights are going to be cheaper departing the UK, based on the season of your destination. You might have to compromise a little here, but it can be worth it.
| | |
| --- | --- |
| January | Shoulder Low Season |
| February – May | Low Season |
| June | Low / High Season |
| July - August | July - August |
| September – Nov | Low Season |
| December | Shoulder High Season |
Use the Hubs
Another tip if you're on a budget is to consider 'hub' cities. Hub cities are the airlines' home, e.g, Emirates' hub is Dubai, for Cathay Pacific it's Hong Kong.

If you keep your initial itinerary simple and predominately fly into or via the airlines' hub cities then the cost of your ticket will be much less as there won't be any add-on trips at extra cost to you.

The trick is to fly into a major city, go overland (the best way to see a country anyway, no?) and then fly out from another major city. Throw a tour in between each place and your trip is starting to take shape. Ask your travel consultant for advice on this.
Step 4: Draw up your Shortlist
Draw up a rough itinerary list of your ideal, non negotiable experiences and destinations.

Then add on those you would like to achieve, but could compromise on.

Do the same with dates, e.g. 'must leave Singapore on 23rd October but flexible up to a week for when I leave Sydney'.

Remember that less can be more. Spending more time in fewer destinations can be more rewarding than blitzing through multiple destinations quickly.

The Round the World Experts easy to use Journey Planner will come in handy here – you can pick out your destinations and send it off for quote.
Step 5: Talk to an Expert
Call us on 0800 707 6010 and talk your plans through with an expert. We have the knowledge to take your sketched ideas and turn them into something solid making sure you get all your "non-negotiables" and as many other experiences as budget and time will allow. We may even come up with some suggestions you hadn't thought of.

Remember, anything is theoretically possible, but some routes are cheaper than others, some more flexible than others – and that's where our specialist knowledge will prove invaluable.
Step 6: Travel Checklist
Consider whether you are going to buy tours, campervan hire, accommodation or anything else along with your flights. If you're thinking, 'nah, I'll just do that separately – it'll be cheaper,' then maybe you might want to reconsider. Travel agents get deals on land products like these where they pay up to 20 per cent less than you do – this means there's room for negotiation here.

Travel insurance is always vital on a round the world trip. You will be travelling to different countries and there will be a range of activities to tempt you. Our travel insurance policies can cover you for most of these activities. Should anything happen you can have the peace of mind of knowing that you are covered both medically and in terms of your possessions.

Visas and Passports - we've teamed up with a specialist Consular Services company, to help you acquire any visas or passports.

— UK Immigration Consultation

— Obtain UK Birth and Marriage Certificates

— Tourist and Business Visas worldwide

— Translation of Documents into any language

— Help with applying for, renewing or replacing a UK passport

— Replacing lost passports (selection of countries)

— Russian Business and Tourist Visa Invitations

— Working Holiday Visas

Plan what to take with you – get advice from travel blogs, such as our 80 Days Travel Stories on what to pack for a round the world trip, as well as what to leave out.
Travel Advice - to find out if it's safe to travel to certain destinations, and for up to date travel advice contact the Foreign & Commonwealth Office (FCO) Consular Services www.fco.gov.uk
Step 7: Have the Time of your Life
So, the most important things to remember when looking to get the best deal for your once in a lifetime trip are: know what you want, ask for a few quotes, know the conditions of your ticket and, book as early as you can. Oh and of course, enjoy your trip – it'll almost certainly be one of the best things that you ever do.
Most Popular Round the World Itineraries
Below are a few of our most popular round the world itineraries to help feed your imagination.
Budget Explorer
3 centres London » Los Angeles » Auckland (make your own way to) Christchurch » Hong Kong » London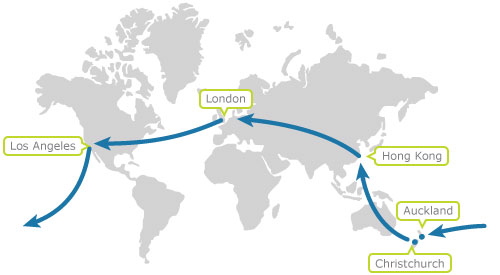 Hustle and Bustle
7 centres London » Delhi (make your own way) Mumbai » Bangkok » Ho Chi Minh City » Tokyo » Los Angeles (make your own way) New York » London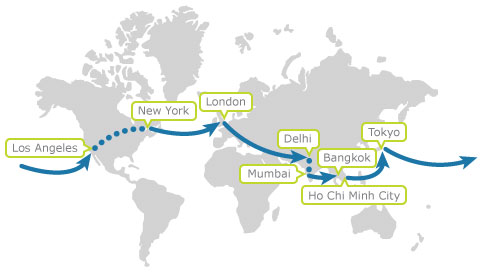 World Explorer
8 centres London » Rio de Janeiro (make your own way to) Buenos Aires » Lima » Santiago » Auckland » Sydney » Perth » Tokyo » Bangkok (make your own way to) Singapore » London